It feels good to be bad! After the 'Cruella' trailer broke records for Disney we thought of five Disney villainesses who need the origin story treatment.
Written by: Kelly Levine – February 22, 2021 6:41 pm pst
Disney's Cruella has become a hot topic of conversation for multiple reasons. Starring Academy-Award winner Emma Stone as a younger version of the infamous dog snatcher this film will examine the character's origin story. The trailer depicts a gritty version of 1970s London and promises a much more down to Earth story than most Disney fans would expect. If the trailer views are anything to go by, Cruella will definitely be on people's minds until it's release on May 28, 2021. This could be an initial step in a new direction for Disney. Along with the live action remakes of fan favorite animated films there also seems to be an interest in giving more complex backstories to the villains. So, Cruella Deville may not be the only villain getting her own film. Here are five other villainesses whose origin stories we'd love to see. 
Mother Gothel 
Tangled has been getting a lot more appreciation in recent years. The 2010 animated retelling of Rapunzel introduced viewers to beloved characters like Flynn Rider and adorable pet chameleon Pascal. Tangled even got its own spinoff series, Rapunzel's Tangled Adventure, on Disney Channel. After the series three season run fans are probably wondering where the Tangled universe can go next. Many have suggested a prequel about Mother Gothel, the primary antagonist of Tangled. In an age where classic Disney villains are rare Mother Gothel brought things back to their roots. However, unlike most Disney antagonists Mother Gothel is not a witch nor a sorceress. Tangled directors Nathan Greno and Byron Howard made his choice intentionally in order for Mother Gothel to rely on her wit, charm, intellect and charisma as opposed to magical abilities. They even interviewed several female employees about their relationships with their mothers in order to inform the toxic bond between Rapunzel and Mother Gothel. It was this as well as the incredibly memorable performance from Tony Award Winning actress Donna Murphy that made Mother Gothel so memorable. With a character as complicated as this, Tangled barely even scratched the surface, and considering the fact that Mother Gothel has been alive for eons there are several stories you can tell with the character.
Yzma
Yzma comes from one of Disney's most underrated films The Emperor's New Groove. The 2000 buddy comedy follows the story of self-centered Incan emperor Kuzco played by David Spade, who is transformed into a llama by his ex-advisor Yzma. Desperate to get home to his lavish palace, Kuzco enlists the help of local village leader Pacha portrayed by John Goodman. While the two men build a friendship on their journey home they are pursued by Yzma and her henchman Kronk. What makes Yzma so unique as a villain is her humor. If Disney were to give Yzma an origin story it would be interesting to see them take it in a comedic direction especially with the presence of Kronk. As a fan favorite, many would be interested to see how this dynamic with Kronk began and maybe even the origin of his famous spinach puffs. Seeing how Yzma gets to her position as Emperor's advisor through her scheming and potions could have all the makings for a fantastically fun film. 
Ursula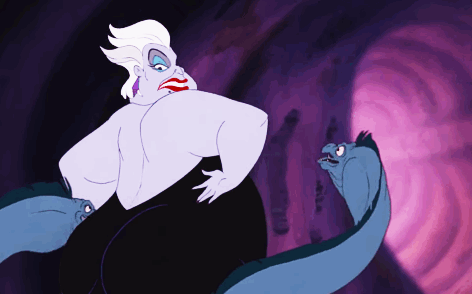 Although there's a live action The Little Mermaid film coming with Melissa MCcarthy playing the deep sea dwelling witch Ursula, there's still a lot unexplored about the character. If the live action The Little Mermaid becomes a success it wouldn't be unfair to assume that Disney would want to tell more stories under the sea. Whether MCcarthy returns to the role or Disney opts for a younger actress there is a lot of mischief that Ursula can get into. Another unanswered question could be just how Ursula was banned from the ocean kingdom or how she took up witchcraft. Either way if we can get more songs like Poor Unfortunate Souls in the future then I'm sure fans will be happy. 
Madame Leota
Once Upon a Time fans will definitely recognize this pick. The ABC show was immensely popular for bringing us live action reinterpretations of our favorite Disney characters. The only reason The Evil Queen from Snow White didn't make an appearance on this list is because her origin story and eventual redemption has already been done justice on Once Upon a Time. Madame Leota, made famous by the Haunted Mansion franchise, has a lesser known role in the series as a pawn in Mother Gothel's evil plan. However, hardcore Disney park enthusiasts will know Madame Leota from the original Disneyland and Disney World Haunted Mansion rides. The ride advertises Leota as having been a medium, psychic, palm-reader, potion brewer, clairvoyant, and an oracle of Romani descent. Alive during the Salem Witch Trials, Leota is forced to flee to New York. She eventually opened a store called "Memento Mori Curios and Curiosities" which sold supernatural relics, potions, and offered spirit photography. A movie or series detailing Leota's exploits with the supernatural before her spirit becomes trapped in a crystal ball would definitely satisfy fans. 
The Evil Stepsisters 
This final pick is less of an origin story and more of a redemption arc. Disney fans know that at the end of Cinderella where the hero runs off with the Prince to happily ever after isn't exactly the end. The beloved animated film spawned two sequels which delved further into one of the two sisters. Cinderella II: Dreams Come True shows Cinderella's stepsister Anastasia begin to regret her previous actions as she falls in love with a humble baker. When Lady Tremaine discovers the pair's romance she strictly forbids it. This leads Anastasia to find comfort in her former enemy Cinderella. Even further in the third film Cinderella III: A Twist in Time Anastasia is roped into her mother and sister's plan to ruin Cinderella's life with magic. However, by the end of the film Anastasia has a change of heart and discovers she wants to find true love on her own terms. If Disney were to ever make a sequel to their 2015 live action adaptation of Cinderella then focusing on Anastasia could be the right way to go.
About The Author:
Kelly Levine is a screenwriting student at Loyola Marymount University in Los Angeles, and an intern at AfterBuzz TV. She hopes to one day pursue a career in television writing and production. Kelly loves television, movies, and all things nerdy in pop culture!