Whether this year's plans include an SO valentine, your closest galentines, or an evening of self-care, we have a list of must-watch flicks to fit any heart day vibe.
Written by: Ani Cataldi – February 12th, 2021 4:51 pm pst
Loving
This is the ultimate story of love. Based on the true story of an interracial couple in the 60's, Richard and Mildred Loving became the center of one of the biggest Supreme Court cases of all time, simply by virtue of being in love and getting married. 
Someone Great
If you need a good breakup movie, this is the one. Prepare to cry a little as Gina Rodrigez plays a recently dumped music reporter who heads out with two best friends for one last night in NYC before moving to San Francisco. This film is a true testament to friendship, especially in the aftermath of a breakup.
Bridget Jones's Diary
Nothing says self care like Bridget Jones and some ice cream. 
Magic Mike
Strike that, nothing says self care like Magic Mike and ice cream. 
10 Things I Hate About You
A young Heath Ledger is exactly who I need to spend this Valentine's day swooning over. Alongside Julia Stiles, this quintessential '90s couple recreates Shakespeare's The Taming of a Shew into a classic rom-com. This one always makes me smile and Kat's monologue always puts me in my feels.
Brandy's Cinderella
What better way to celebrate the holiday of love than with one of Disney's most enchanting fairy-tale love stories? This '97 live action version of Rodgers and Hammerstein's Cinderella stars an A-list cast including Brandy, Whitney Houston, Whoopi Goldberg and more, reigning as an instant classic. If you're among those who have been patiently waiting for the streaming debut of this movie adaptation, your wish has been granted! Cinderella is available on Disney+ just in time for V-Day.
Roman Holiday
This '50s rom-com is a timeless love affair between Audrey Hepburn, Gregory Peck, and Rome. Where could you go wrong? In Hepburn's debut performance, she plays a European princess out for a night on the town, where American reporter (Peck) happens to find her…and maybe his next big story. Filmed entirely in Rome, Italy, this one's great if you're needing a mental getaway. 
Girls Trip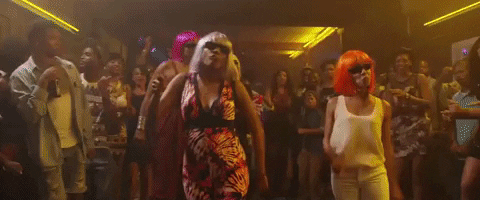 Speaking of getaways… Since most of us won't be going on a real girls trip in the near future, it's fun to live vicariously through Queen Latifah, Tiffany Haddish, Jada Pinkett Smith, and Regina King and imagine what it would be like to have them as our Galentine's. When this college crew reunites for a weekend in New Orleans, their friendships are solidified through the ups and downs brought on by the Big Easy. This film celebrates the best kind of love: sisterhood. 
Crazy Rich Asians
This love story goes so much deeper than the obvious class differences suggested by the title. As Rachel meets the traditional and disapproving mother of her boyfriend, Nick, she finds herself treated as a foreigner in his world. Their love story is so complex and so relatable on different levels… And If the wedding scene doesn't make you cry every time Can't Help Falling in Love With You plays, you definitely need to give it another watch! 
Crazy Stupid Love
Ryan Gosling and Emma Stone make this rom-com so easy to re-watch every Valentine's Day, especially with the help of the rest of the star-packed cast that are falling in and out of love among all the hilarity and mishaps.  
Isn't It Romantic
No one gives dating advice like Rebel Wilson. If you're sick of clichéd rom-coms like Pretty Woman and My Best Friend's Wedding, this film is just what you need. When Natalie (Wilson), who is trying to avoid those clichéd love stories at all costs, wakes up as the leading lady stuck inside a real-life romantic comedy, craziness ensues. Tons of ironic coincidences poke fun at the rom-com genre the whole way through, including one particularly humourous meet-cute with an extra handsome and charming Liam Hemsworth. 
Slyvie's Love
This beautiful and unapologetic love story starring Tessa Thompson and Nnamdi Asomugha tells the tale of reacquainted love in 1950's New York. The Old Hollywood, jazzy romance is raw in showing the sacrifices we make for love. Grab a tissue and get ready to swoon over this one. 
Her
If you're looking for something a little unorthodox, nothing says unique like the story of a man (Joaquin Phoenix) who develops a relationship and eventually falls in love with an artificial intelligence program (voiced by Scarlett Johansson). 
No matter what you choose to watch or who you're cuddled up on the couch with, grab some popcorn and take this night to enjoy the voyeuristic luxury of getting to critique other people's love stories! Because that's what this holiday is all about, right? Happy watching!
Ani Cataldi is a senior at Penn State, pursuing a BA in Strategic Communications and a minor in Media Studies. She is an Intern at AfterBuzz TV, passionate about increasing diversity in the entertainment industry, and lover of all things Bravo, Bravo, Effing Bravo.